Terri Collins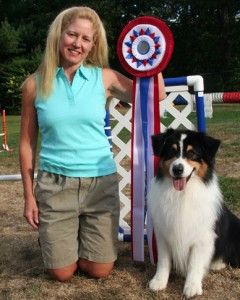 I have been involved with dogs all my life, from our family pets when I was growing up (Labs & Beagles), to my current breed (Australian Shepherds). In between I spent several years as an avid Rottweiler fancier, involved in Conformation, Obedience and Schutzhund. I currently show in Conformation and Agility, but they are above all still family pets! In the past I was active in Obedience, putting several titles on my own as well as friend's dogs. In the 1970's I attended and Graduated at the top of my class, from Newbury Jr. College's Animal Technician Certification Program. I grew up with 4 dogs -loving brothers (2 of whom are  Veterinarians) who have inspired me to follow my dreams no matter how much dog slime I encounter!
I moved to Auburn with my husband Steve in 1982, with our Rottweiler "Dillon". We purchased our home from a young woman who had been running a Boarding/Grooming shop out of the house. For years I took in friend's dogs to care for them while they were away. I heard countless times "You should do this for a living!" It occurred to me that they might have a point! I can't tell you how many times I cancelled a trip or simply the idea of one, because I didn't feel comfortable leaving my dog's in anyone's care. If they couldn't come with me, I didn't go!
The actual Business idea came to me on the advice of my good friend and Agility trainer, Betty Belliveau, with the help of Mary Cerreto. We saw a great need to build a facility for training here in Central Ma., as all of us have to travel great distances to train our own dogs. I began Collinswood K-9 in 2002, using the lower level of my house and backyard for daycare and boarding. My own dogs were very accommodating to have so many others invading their space! I began teaching Basic Obedience and Puppy Kindergarten to small groups as well as some private lessons. In my spare time (which there wasn't a lot of with 2 children, 3 horses & several dogs underfoot!), I did the leg work and designed my own training/boarding & daycare facility here on our property in Auburn.
The result has been astounding! The building is just under 7425 sq. feet, housing (10) indoor outdoor runs, a fully matted training floor over 5500 sq. feet, a daycare room, kitchen, laundry room, a full service grooming shop, office and of course, indoor plumbing! The outdoor play yards have a mixture of 3/4″ river stone and Play Safe ground rubber footing, which allows the dogs to run, jump and play with minimal worry of injury. The indoor training surface is Comfort King foam matting over rubber mats, which has proven to be excellent surface to work on for both handler and dog!
We welcome you to come and visit us at Collinswood K-9 Services, to see for yourself what the ultimate in dog care and training can be! After all, it's all about the dogs!